Did you know that a smartphone can undergo refurbishment up to 4 times? The right lifecycle partner can enable this effectively while lowering your carbon footprint and saving you money.
Tackling the challenges above may involve expertise, infrastructure, and logistics that your business can't internally support. Reaching out to a third-party partner will relieve the pressure and optimize the reuse cycle.
Ingram Micro Lifecycle has worked within the technology and IT industry for over two decades. Through our close partnerships with many OEMs, network operators, enterprises, and other markets, we can see the genuine value that the DaaS model offers.
The Ingram Micro Financial Solutions division is on hand to support DaaS financing for customers. We're ready to support our customers through these programs.   
In this piece, we explore the advantages of working with a third party to ensure the efficient lifecycle management of your fleet of leased devices.
What is a lifecycle partner?
In the technology sector, this is a company, like Ingram Micro Lifecycle, that offers a breadth of services and solutions for electronics to make their lifecycle efficient for as long as possible.
This is a sustainable solution that provides longevity and circularity for your IT, mobility, and electrical devices, reducing your e-waste footprint.
Services may include, but not be limited to:
Returns management

Aftermarket sales

Technical call center

Repair

Refurbishment
Benefits of working with a lifecycle partner to manage subscriptions
Choosing to lease out your products rather than sell them comes with challenges.
Working with a lifecycle partner helps soothe the complexity of these challenges while ensuring high customer satisfaction and return on investment.
1. Sustainability
A refurbished smartphone is 11 times more sustainable than a new one. The manufacturing process generates 80% of a new smartphone's carbon footprint.
Your lifecycle partner will be able to report on sustainability metrics to support your ESG objectives and demonstrate CO2e savings.
2. Costs
Lifecycle extension services prolong the end-of-life point of any device. As the device works efficiently for longer, you avoid the need of having to purchase new more often. Using a device for longer is more cost-effective than purchasing a new one.
The partner will manage the user journey, achieving higher customer satisfaction and increasing the likelihood of subscriber retention. This saves costs in minimizing churn.
3. Usability
Repair and refurbishment services uplift the grade of the device. This correlates to usability, cosmetics, functionality, and durability. The higher the grade, the better the quality of the device.
Through the application of these services, devices are regularly restored to better grades which extends their efficiency.
4. Skills & certifications
As this kind of activity will not be the focus of your business, aligning with a third party will offer you access to expert staff that can perform a range of highly skilled and technically comprehensive processes.
The provider will have certifications and accreditations to prove their compliant competency and access to manufacturer-approved parts, processes, and guides.
5. Reporting & insights
Knowing the industry inside and out, the partner you choose should have many years of experience.
With that experience comes insight into reliable reporting and accurate predictions that will aid in forecasting. This will support financial plans and capitalize on market price trends.
This helps set your lease pricing and also with resale values.
6. Recommerce
Your chosen lifecycle partner should have access to a robust network of secondary market resellers and channels. This enables the recovery of residual value when you no longer have a use for a device.
Selling on the secondary market not only recuperates some value for you for re-investment into your business but enables the device to be re-loved elsewhere, avoiding e-waste.
7. Grading
Each time a device is returned at the end of a subscription, it must be graded to assess its quality and function. This will determine what repair and refurbishment is needed to return it to a usable condition to be re-used by another user.
If the device is deemed beyond economical repair by the grading process, then it will be sorted for parts harvesting and responsible recycling.
A lifecycle partner will have the experience and knowledge to be able to conduct accurate grading and therefore process the device efficiently.
8. Logistics & tracking
Loss or theft of devices impacts the cost-efficiencies of device subscriptions and risk data security. Secure and compliant returns management is important to avoid this.
Inventory management ensures that all devices on – or off – subscription are easily located, with their locations visible. This is particularly important if you have subscribers spread across several locations.
The provider you work with will retain up-to-date inventory tracking and liaise with subscribers when devices need to be recalled. This may be due to upgrades, exchanges, or leavers.
They will arrange the necessary logistics, with secure transportation and warehousing, plus visibility of devices so you can call them off when needed.
9. Pre-configurations
If your device subscriptions are offered through the DaaS model, then devices can be preconfigured based on a set list of requirements before despatch to the end-user. These preconfigured devices are called Gold builds.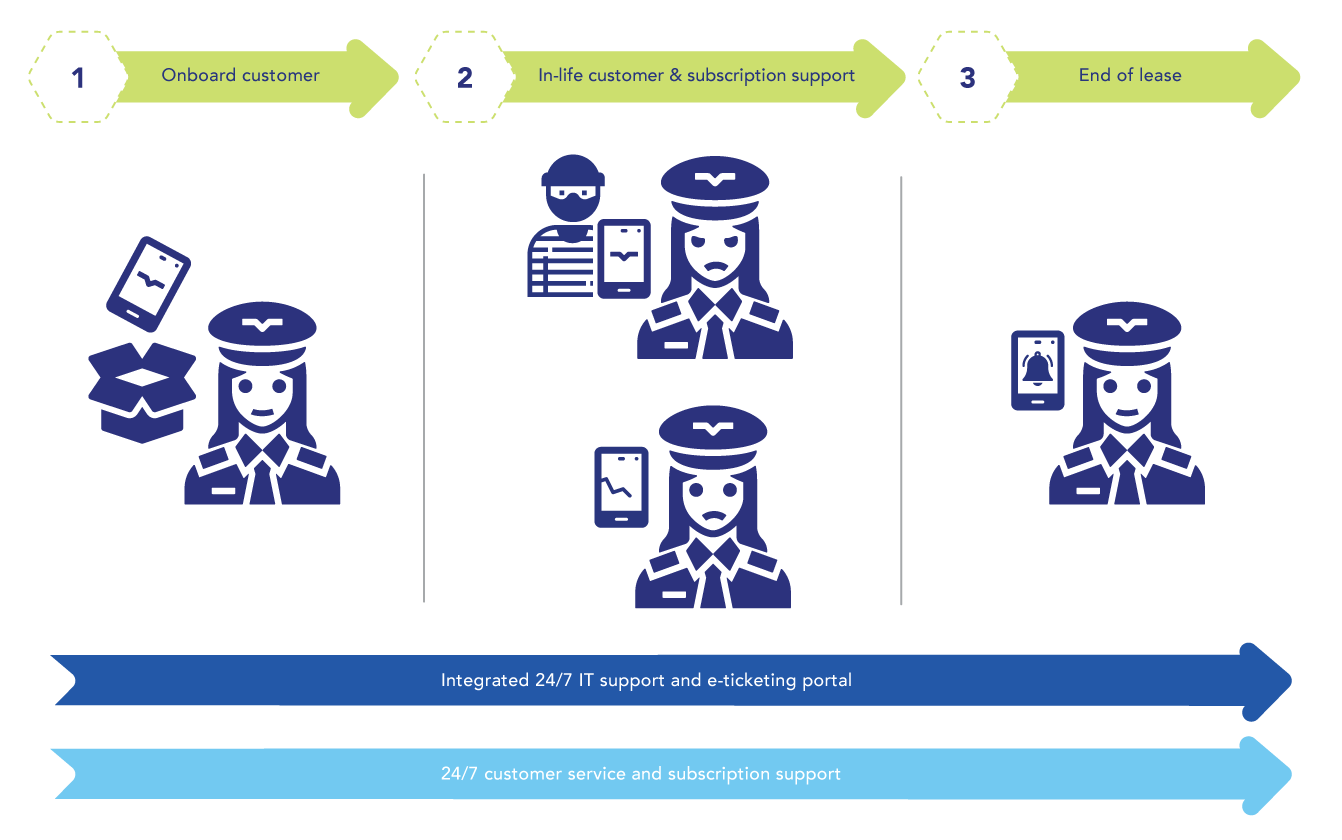 Want a screen protector and case fitted? Done.
Need the camera disabled? No problem.
Want the phone to display a company-branded wallpaper? Sure thing.
This is all possible with a device as a service partner. It saves you and your subscribers time.
10. Customer support
Look for a partner that can offer dedicated customer support by telephone and online. Your customers need a seamless experience, and that entails being able to speak to a person about their issues and ask any questions they may have as a subscriber.
Creating a bespoke or integrated 24/7 customer service portal empowers your customers to report issues, arrange exchanges, view contract documentation, and monitor ongoing cases.
Find a lifecycle partner that supports you
Working with a lifecycle partner enables your program to offer a wide choice for easier access to products while working on simplifying the behind-the-scenes complexities.
Ingram Micro Lifecycle has been providing a variety of technology customers with lifecycle services for over a decade. We support customers with DaaS and leasing programs, ensuring they receive the maximum value and benefits possible.
To find out more about how we can tailor our solutions to fit you, get in touch with our knowledgeable team today.
Additional reading:
Topics Covered: