Dealing with your organization's redundant IT and mobility assets can be a pretty standard service. Many providers say they can offer everything you need but have you considered that you're possibly NOT getting the best solution?
Ingram Micro Lifecycle is a division of Ingram Micro, the world's largest distributor of computing and technology products, positioning us uniquely within a wider network. Backed by a large corporation and a global footprint, we have the financial stability and track record to build long-term relationships, underpinned by expert device lifetime support. Our lifecycle extension processes are proven to withstand challenges and demands from a fast-paced, uncertain world. We drive IT estate efficiencies and reduce disruption caused by working with multiple reverse supply chain suppliers.
Ingram Micro Lifecycle offers state-of-the-art solutions to address the return, refurbishment, repair and remarketing of data-bearing technology products, enabling operators, retailers, insurers, enterprises and Own Equipment Manufacturers (OEMs) to maximize the life of technology products. Ingram Micro Lifecycle enables a circular and sustainable product lifecycle through services such as configuration & fulfilment, returns management, repair & refurbishment, trade-in & buy back, asset management, IT asset disposition, and remarketing.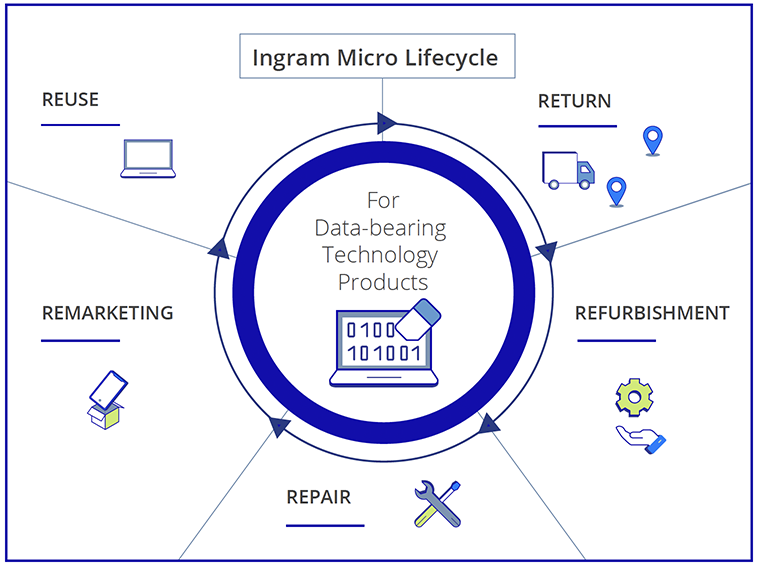 We understand that organizations have three key driving factors when deciding what to do with broken, obsolete or unused technology; data security, environmental responsibility and value recovery.